Quote:
Originally Posted by
roxxxy_luvs_duff
Quote:
Originally Posted by
Wjk
I got mine this weekend! This picture shows it really fresh. It was taken just a few minutes after it was done, so its still bleeding. I got it on my right side, lower back, upper butt area
Its being streched a little in this pic...its not as tall as it looks and its about the size of a 50 cent piece.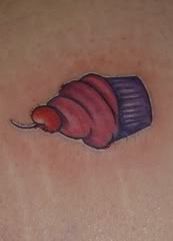 thanks for being my tatt buddy!!!!
You guys are just plain crazy....I'm glad I got to watch you get your tatt's cause now I NEVER want to get one!!
But I love both of your cupcake tattoos!!